PR & Marketing Intern
We are seeking a public relations, social media, and digital trends enthusiast who is hungry to broaden their horizons by living and working abroad! Do you have the courage to do so?
Join our team and gain a rewarding experience to build your professional resume!
The position is open (mainly) to Bachelor and Master degree EU students interested in PR, marketing, and social media management. The internship is unpaid but financed through the Erasmus+ program.
Duration: 5-6 months
Place: Prague (available from autumn 2021) /Brno (available from February 2021), other offices/cities upon request
Who do we want?
an open-minded social media freak familiar with hashtags, stories, posts, and tags

an active person who is capable of working both in a team and individually
a skillful and sociable events organizer
a passionate writer who enjoys sharing information and experiences
a graphic design and video production buff
Who does our PR & Marketing Manager Lucie wish for?
an optimistic individual who will become our reliable PR teammate
a cheerful colleague who will be a pleasure to work with
a team player who won't be afraid to come up with new ideas and suggestions
a flexible and creative soul who is eager to learn new things
Responsibilities
regularly post engaging content promoting Foreigners services and events
manage social media accounts and the monthly MeetUp event
create, organize, and promote events in cooperation with the PR Manager or on your own
support the brand of Foreigners by writing articles/blog entries
design visuals (posters, original content for Facebook, etc.)
support the office coordinator's work and the team as a whole
promote Foreigners online (search for different ways to promote the Foreigners brand online)
Requirements
social media management experience
PR & Marketing background
copywriting
visual media editing skills (photography, videography)
organizational skills
fluent in spoken and written English
creativity
Benefits
multicultural environment

dynamic and open company culture

practical experience in social network management

space for creativity and development of your own ideas

hands-on project management - event organization and supervision

enhancement of presentation and interpersonal communication skills

independence and self-organization

encouragement of professional growth through direct feedback

letter of reference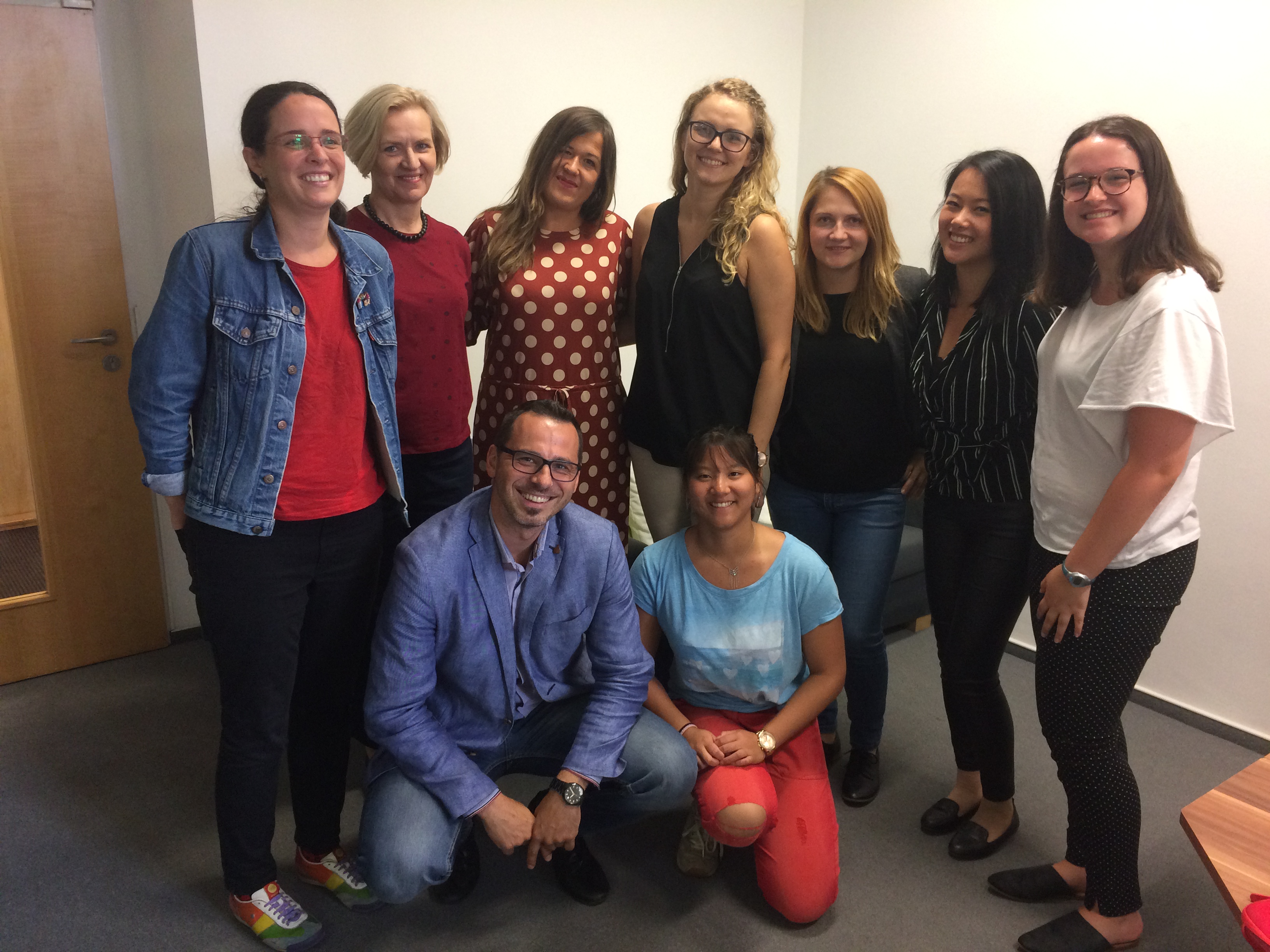 What do our (former) interns say?
To say that the internship at Foreigners taught me new things is to say nothing! This company is a very special place, with amazing people and wonderful atmosphere, which help you not only learn new things in PR and marketing but also grow as a person and co-worker, find a right solution in difficult situations and constantly challenge yourself. Lucie is an amazing and considerate boss who always guides in the wisest way and at the same time lets you self-organize and do your work independently. Teammates are always happy to help and assist which makes an atmosphere within a company truly special and supportive. Work for Foreigners? My answer is definitely yes!
- Karina Babkova, Ukraine, an intern in the headquarters office (October 2018 - December 2018), PR & Marketing Coordinator (January 2019 - now)
My internship at Foreigners was very significant in my life and I am very grateful to belong to this company for 6 months. It was my very first long working stay and the first time I lived abroad. I left my comfort zone and they gave me the opportunity to live through it which was rich in the successes and failures of all kinds. Indeed, I was successful in a number of issues, such as creativity. I was able to use my ideas and broaden my understanding, as I gained autonomy and trust from Lucie. She gave me a lot of liberty in my daily tasks. I learned a lot, whether at the office or in my personal life. When I arrived in the Czech Republic, it was challenging to figure out how I would manage my life alone, without my bearings and how I will "start" a new life abroad. This internship was a good opportunity to live a new professional experience, discover a new country and new people. It was very enriching and I will never forget this part of my life.
- Camille Springaux, France, an intern in Prague office (February 2018 - July 2018)
Working at Foreigners has been a great opportunity to turn what was part of a hobby into a career path. PR and Social Media managing was a secondary part of my personal projects and here I could really learn and understand the big difference it can make on a company when you have knowledgeable and dedicated professionals taking care of a company's image. Anyone thinking about starting a career in PR will find at Foreigners an incredible team ready to teach and hopefully learn something new too. My internship started as a 5-month internship but due to a change of jobs and lack of time I reduced my hours and extended my internship so I can continue the initial projects we had established. To anyone thinking about joining Foreigners, you will have a great time.
- Rafael Leite, Brazil, an intern in Brno office (January 2018 - December 2018)
If you are interested in this internship please send your CV and motivation letter to jobs@foreigners.cz with the "EWP Intern" subject.