DOMEQ APARTMENTS
Accommodating modern professionals and students
It's not only accommodation, it's a lifestyle.
Book an apartment for 1 month or longer and join the community at the downstairs chill-out zone whenever feeling sociable. Experience the unique vibe of Ponāvka compound - a fusion of 19th century architecture and contemporary industrial design.
Check out the life in Domeq
LOCATION
6 min to the city centre by bus, 10 min on a bike to Spielberk Office Centre, connections to Technology Park and Bohunice Campus, walking distance to Lidl supermarket and Vankovka shopping centre.
CHILL-OUT ZONE
Pool table, beanbags chill-out, flat screen TVs, cinema corner with beamer for business presentations, coworking section, coffee bar, classy Petrof piano, common cooking and dining area.
FULL SERVICE AREA
Reception and security service available 24/7, outside parking spots, bike storage room, waste sorting bins, laundry room, laundry and cleaning service, cafe and restaurant in the compound.
What's Domeq about?
Domeq is a cutting-edge concept that creates a supportive environment for its tenants: a rare combination of privacy, social life and inspirational coworking atmosphere. Domeq is a cultural melting pot where modern professionals find their base.
Browse the news while sipping your morning coffee at the local cafe. Kick-start your day in the downstairs fitness room. Discuss your new project with your partner at the coworking space at the lobby. Get to know new people at a barbeque on one of Domeq's terraces. Go for your regular jog along the Ponávka river meandering through the compound. Or just seat yourself comfortably on the lawn, lean against a tree and read a book. Ponavka compound provides a nook for every part of your personality.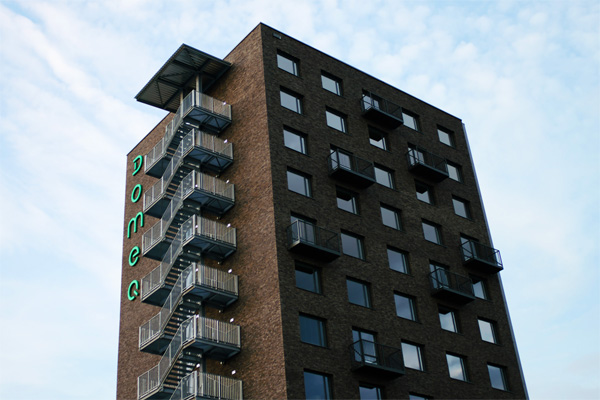 How about the units?
All rooms in Domeq are provided with custom made furniture that allows for plenty of storing space and offer comfortable work/study environment. In nearly all rooms there are two beds one of which can be utilised as a sofa. A private bathroom as well as a kitchen corner is found in every apartment.
Crisp and neat interiors are designed with an accent on purity of space and combined with contemporary industrial elements. A number of apartments include balconies. On both rooftops of the building there are terraces with quite a stunning view on Brno panorama.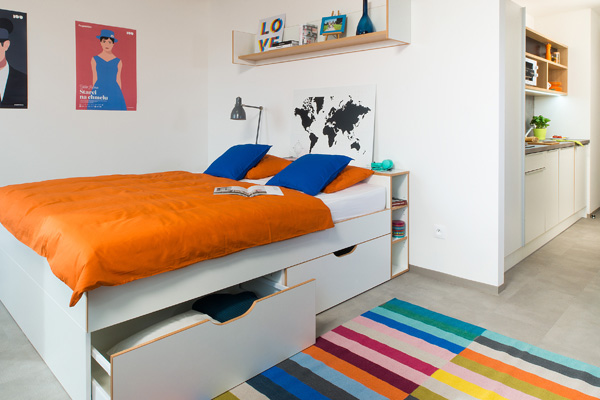 Neighbourhood
Public transport operating every day and night

Bus and train station

(6 min via public transport)

Lidl supermarket

(within 5 min walk)

Vaňkovka shopping centre

(within 10 min walk)

Spielberk Office Centre

(10 min via public transport)

Technology Park

(30 min via public transport)

Bohunice Campus

(20 min via public transport)

Post office

(6 min via public transport)

Fitness centre, gym

(in the compound)

Cafe, restaurant

(in the compound)

Pharmacy

(within 10 min walk)
Interested?