CYRILSKA LOFT APARTMENTS
Accommodation for dream makers!
Book an apartment for a mid or long-term (3 months or longer) and join the community of inspirational people living in the city center with your own quiet place to build a business.
Check out the neighborhood
LOCATION
3 min to city centre by tram, next to Impact Hub, walking distance to Billa supermarket, Vankovka shopping centre and Vlněna business park, direct connection to DRFG Arena, 15 min on a bike to Spielberk Office Centre.
READY TO MOVE IN
Fully furnished apartments guarantee absolute comfort of tenants. Everything is ready so you can move in only with your suitcase. Furniture, washing machine, plates, pots, cutlery, double bed, bed linens, towels and other necessary items.
BIKES & CAR SHARE
For yet pleasant life on the move, every renter has a possibility borrow a car or bicycle. The car is available for tenants giving them an opportunity to enjoy the ride through the city and explore its surroundings.
What's Cyrilska about?
Cyrilska Loft Apartments is a complex of 7 apartments in the centre of Brno made to create a comfortable and supportive environment for its residents. It is a unique combination of complete privacy with advantages of social life and inspirational business coworking atmosphere next door.
Perfect for those with high standards! Enjoy your morning by stretching in the near fitness centre. Eat breakfast in your living room and later, while working, have lunch at Impact Hub to take in the coworking atmosphere. Travel easily to the city centre to meet your friends in downtown. Discuss your new project with your partner in the new business park. At the end of the day, you can drink the typical Czech beer in pubs close by.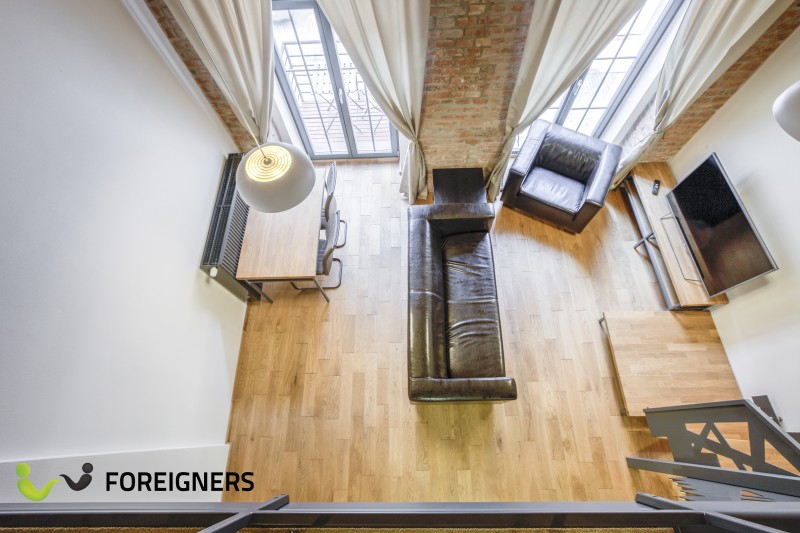 How about the units?
All the loft apartments were designed using high quality materials and attention to detail. A private bathroom and washing/dryer machine, as well as a kitchen corner with dishwasher or kettle, is found in each apartment. All suites have a small balcony which can be taken as an advantage by smokers.
Cyrilska offers two smaller apartments, four duplex apartments and one large two floor apartment with a terrace. The usage of the fenced parking places is optional. In the ground floor of the complex, there is one unit that is possible to rent as an office or for similar purposes. Each tenant can use shared bikes and car for a small service fee!
Neighbourhood
Public transport operating all day and night

Bus and train station

(within 10 min walk)

Billa supermarket

(within 5 min walk)

Vaňkovka shopping centre

(within 12 min walk)

Cafe, restaurant

(in the compound)

Pharmacy

(10 min walk)
Interested?